关于MTBR和年度最佳评测
MTBR是美国,也是全球影响力排名第一的山地车网站和社区平台,在这里,你几乎可以找到每年全球各大山地车品牌的最新最全的主打车型、装备及配件的评测。Alexa自行车媒体行业网站排名第一,吸引月均全球独立访客250万人次,其中包括130万美国本土访客。
年度最佳评选是MTBR每年举办的一次年度评选活动,对当年内测评的整车、配件装备等进行评选,具体包括年度最佳必备车型,最佳林道车,最佳越野车,最佳前叉,最佳夜骑灯等类别,根据每年各个领域的创新情况设置,并且每年全球各个类别几十款测评产品中只选出三款入围产品。
"Innovation is not dead when it comes to bike lights, as these options offer unique new features and ease of use. This year's winner is a budget priced light from an upstart company."
Winner: Ravemen PR1200 and PR900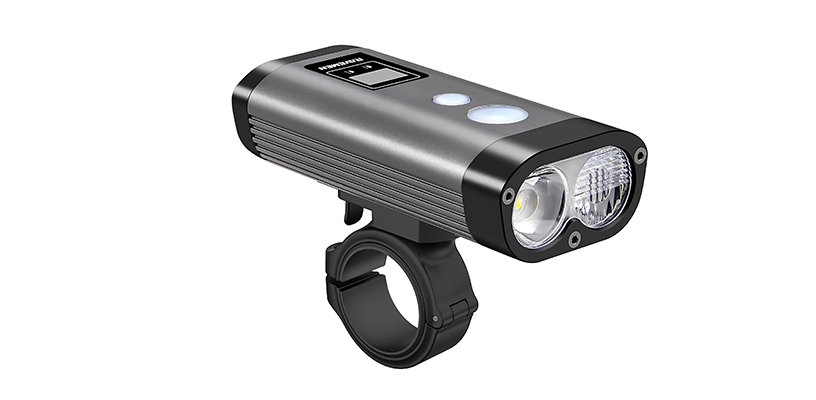 We get to test over 50 new lights each year so this year's best light winner is a refreshing surprise. It's not expensive or the product of a well-known brand. Rather it is a very novel concept from a start-up light maker. And no, it's not one of those Kickstarter projects from a garage 'expert.' Rather it is from a group of people who have insight on the needs of cyclists, as well as manufacturing relationships to build a quality product cost effectively.
The light is the Ravemen PR1200. It looks and feels like a quality piece of machinery with two LEDs and an OLED digital display screen. The screen displays run-time in the brightness mode that one is using. So, on a full charge, it can indicate 1.5 hours on full bright all the way to 18 hours for the dimmest setting.
The magic of this light is that it has two distinct lenses for each LED. One LED is very wide and flat, allowing the rider to see the periphery. This light also has a beam with a very distinct cut-off line horizontally, much like car headlamps and bike legal lights sold in Germany. Round beam patterns found in most lights waste a lot of the light output and it blinds or distracts drivers and pedestrians. This makes the Ravemen very safe to use on the street.
When it comes to trail riding, another click of the main button turns on the traditional, round beam that throws a bright beam very far. The two beams work very well in conjunction. Another button is used to dim and scroll the light through its levels.
Finally, a USB port allows users to charge their devices using the light. It features a 5200mah battery so it's quite a powerful charger for one's smartphone. And the light is very flat and compact so it can be carried in the pocket as a handy flashlight and charger.
We've been testing the PR600, PR900 and PR1200 and all are fine products with the same features. The PR1200 should be widely available shortly but the PR900 and PR600 are available today. For more info visit www.ravemen.com.

Source: http://reviews.mtbr.com/mtbr-best-of-2016-awards-best-night-riding-light